PLEASE NOTE – King of Treasures is still available for purchase, however we do recommend to our customers the latest version game King of Treasures Plus.
About King of Treasures
The King of Treasures Arcade Machine is a 6-8 player fish hunter video redemption game from the English Version Ocean King series, where the players must switch between competing with each other and earn points for catching the various fish on the playfield.
The gameplay is easy and straight forward, making it simple for players of all ages and skill levels to enter the game. Although, the large cast of fish characters to catch and mini games adds an element of challenge and strategy as well. The game also features a high power weapon called the Machine Gun, which players can use by clicking the joystick upwards twice.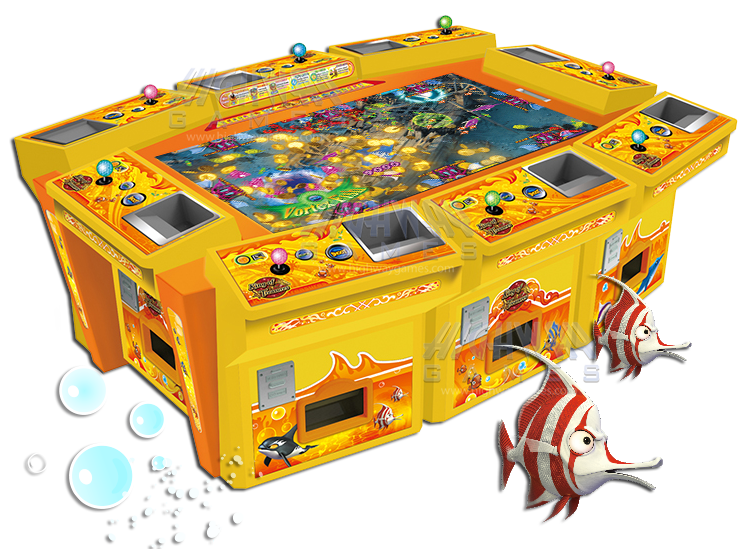 The King of Treasures Arcade Machine features a cast of quirky fish characters, including: Spearfish, Devilfish, Butterfly Fish, Lionfish, Clown Fish, Lantern Fish, Saw Shark, Flounder, Snapper, Octopus, Fugu, Shark, Sea Turtle, Lobster, Explosive Crab, Roulette Crab, Laser Crab, Humpback Whale, Killer Whale, and Golden Dragon.
Build Your Own King Of Treasures Arcade Fish Machine
Choose your favourite King of Treasures game board, then choose your cabinet and accessories, and have us custom build the fish machines for you.
We can even customise the stickers, plastic and cabinet colour to match your store. Your own custom designed King Of Treasures arcade machine can be designed in minutes.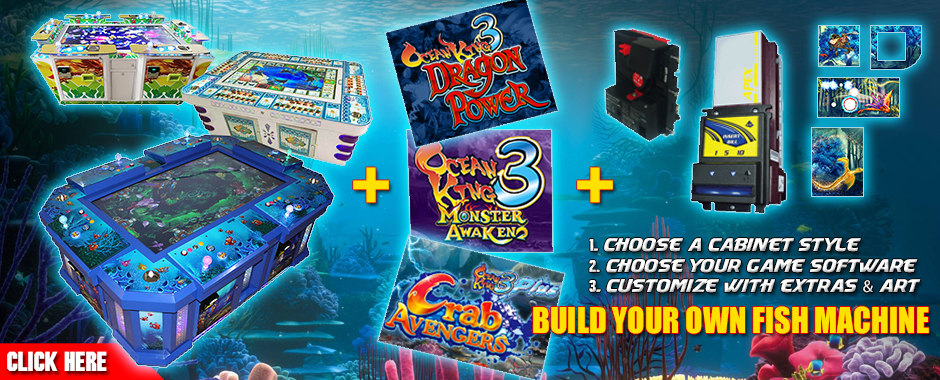 King of Treasures Arcade Machine Mini Games
Lightning Chain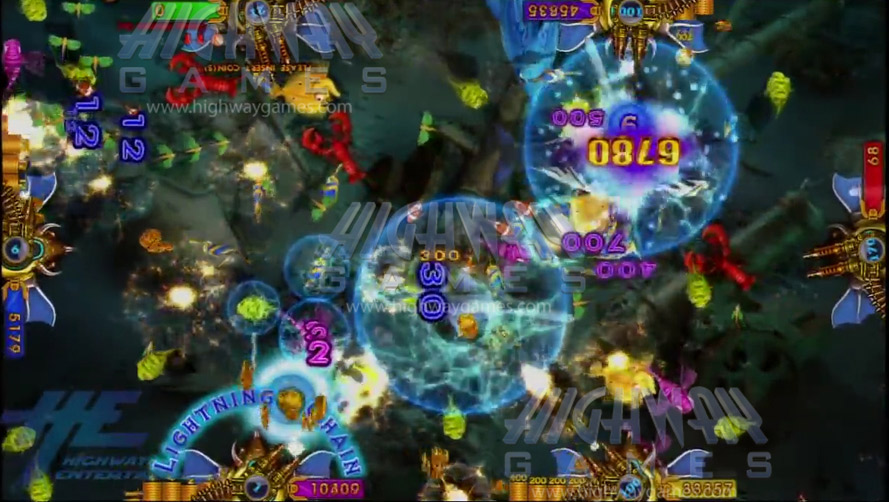 Lightning Chain can affect up to nine kinds of fish, including Clown Fish, Spearfish, Butterfly Fish, Lionfish, Snapper, Fugu, Flounder, Lobster, and Octopus. When players catch a fish that is affected by Lightning Chain, they can potentially catch up to nine kinds of fish at once and win extra points for every fish caught.
Vortex Fish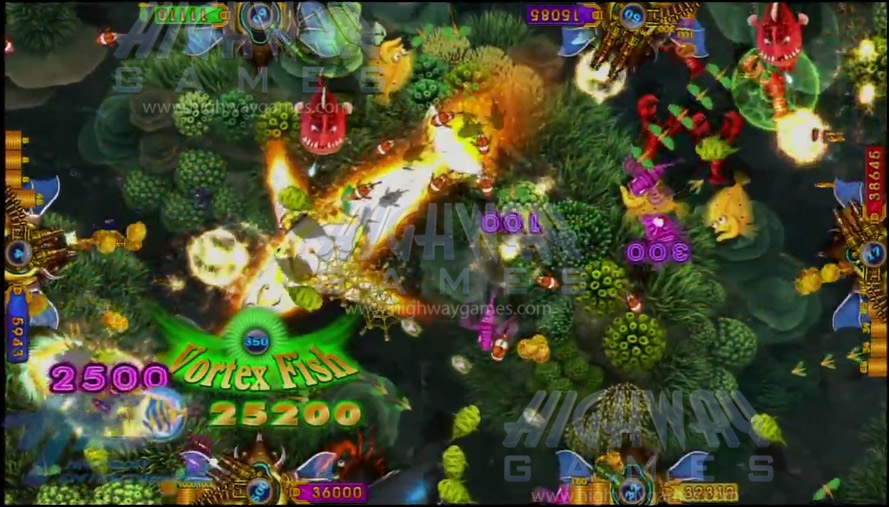 Vortex Fish affects a number of fish in the game and functions similiarly to a whirlpool. When a player catches a fish with the Vortex feature, that fish will capture fish of the same type around it for the player. Not all fish will have the Vortex affect, including Shark, Devilfish, Killer Whales, Humpback Whales and the various Crabs characters.
Explosive Crab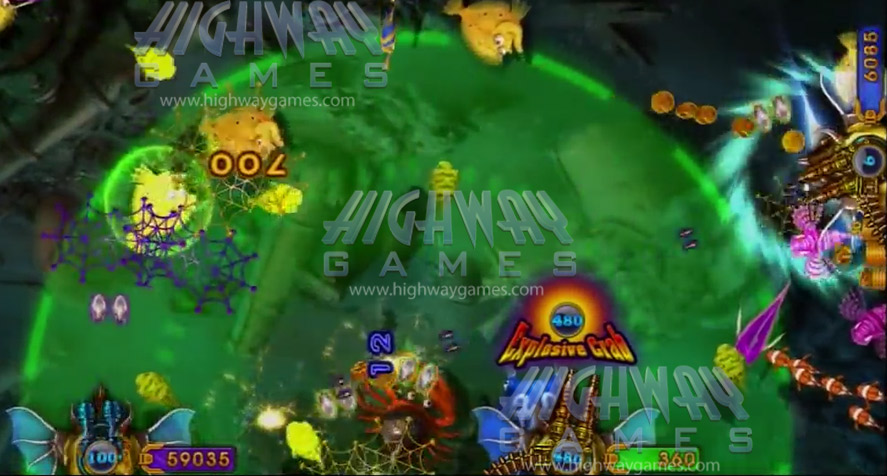 Explosive Crab will be a familiar mini game to experienced players. When players catch this crab, it triggers a large explosion and the player who triggered the crab will get more points for all the fish the explosion affects.
Laser Crab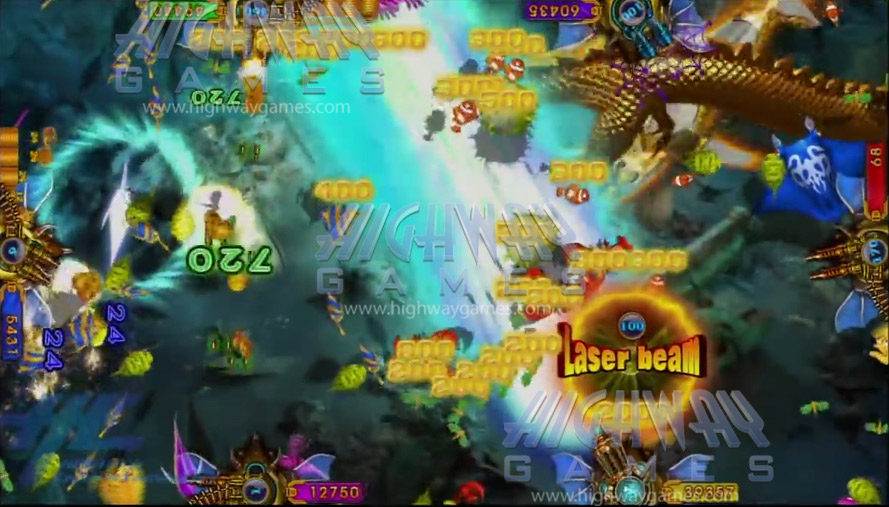 Laser Crabacts like another weapon for the player. The player who catches this crab will a speacial laser weapon gun and they will get one laser beam shot that shoots across the screen. Players will have a limited time to aim and shoot the weapon and it gives players the chance to catch lots of high value fish at once.
Roulette Crab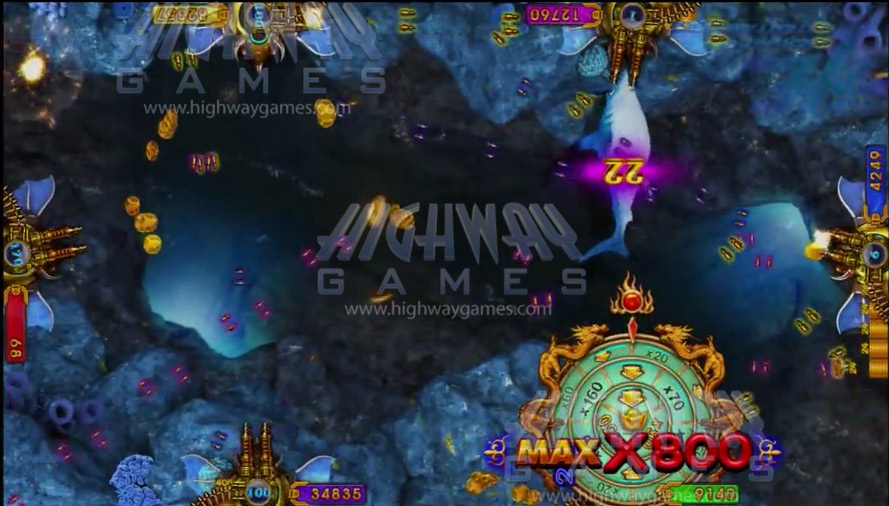 Roulette Crab was previously known as the Golden Reel Crab, which allows players, once they have captured this crab, to enter the Golden Roulette bonus game. In this game a golden, spinning roulette wheel will appear on the screen in front of the player and they must time very carefully to hit the 'SHOOT' button and stop the wheel to win points, with the highest possible points available in the inner roulette ring.
King of Treasure Arcade Machine Cabinet Features
The cabinet features a large High Definition LCD display screen with 3D rendered graphics, displaying highly detailed oceanic stages and characters for players to enjoy. The cabinet also features an operator Key In and Out function, which allows the operator to control the flow of credits in and out of the machine.
To use the Key In/Out function, operators simply insert the key and turn (one way will be to put credits on the machine and the other way will be to payout credits) and if the operator wants to put on or pay out credits, they must press the 'SHOOT' button for each credit they are putting on or taking off the machine. This is an operator function only, to be used at the discretion of the operator, or, if no other input/output options are available.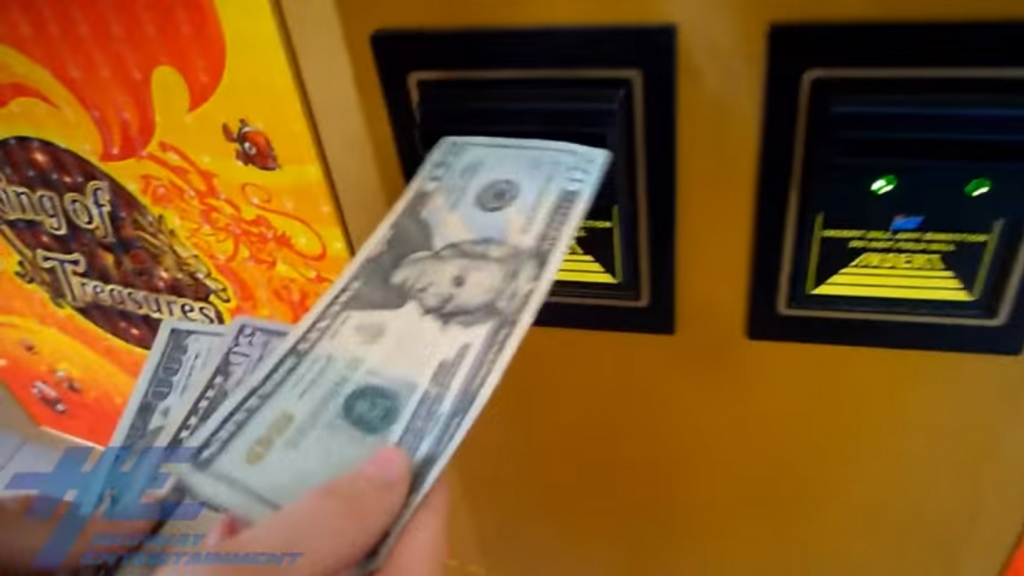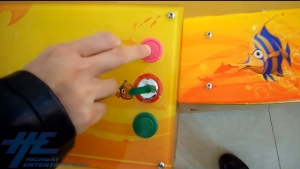 The King of Treasures Arcade Machine is a bright video redemption cabinet, that comes with a fun and appealing soundtrack, detailed graphics and addictive game play; it is sure to stand out in any location and draw players in from all across the floor. The cabinet also has a variety of input and output options to make it more suitable to a range of locations, giving it even more earning potential for more operators.
For more information on how to play the King of Treasures Arcade Machine, CLICK HERE.
King of Treasure Arcade Machine Features:
– 6 or 8 players acceptable at the same time!
– Key In/Out Function for Operators!
– 32 or 58 inch A-level LCD display with big table-board – more space, more fun!
– Full 3D graphics bring you the real appearance of the undersea world!
– Three interchangeable guns, including the new Cumulative Super Gun!
– 18 types of fish to catch and heaps of different scenes to enjoy!
Available Input/Output Options:
– Coin In/Coin Out Version Machine
– Bill Acceptor/Thermal Printer Version Machine
– Coin In/Ticket Redemption Out (for FEC and arcade centres)
Available King of Treasures Arcade Machine Cabinets
| | | | |
| --- | --- | --- | --- |
| Arcade Cabinet Size | Width | Depth |  Height |
| King of Treasures 32″ 6 Player Arcade Machine | 85cms / 33.4inches | 116.5cms / 45.8inches |  84cms / 33inches |
| King of Treasures 58″ 6 Player Arcade Machine |  180cms / 70.8inches | 110cms / 43.3inches | 70cms / 27.5inches |
|  King of Treasures 58″ 8 Player Arcade Machine |  190cms / 74.8inches | 115cms / 45.2inches | 85cms / 33.4inches |