✖
LEGAL NOTICE
Highway Games was the first to distribute King of Treasures Arcade Machine English Version software into the USA, Australia, and Europe. We are aware of unauthorised copied reproductions of this game being marketed as King of Treasures or variations, especially from China market sellers. If you are unsure whether or not what you are buying is a copy product, please contact our sales team for assistance.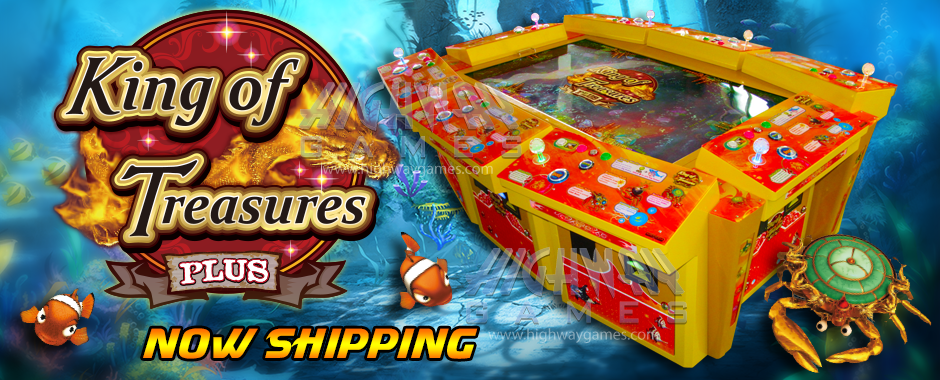 King of Treasures Plus Arcade Machine 
Top Earning Fish Hunter Game

The King of Treasures Plus Arcade Machine is an English version fish hunter game and has proven to be one of the top earning fish hunting arcade machines in the market.
This video redemption gaming machine is designed to accommodate anywhere from 6 to 8 players and uses the same control layout as its predecessor Ocean King. It also features a full cast of quirky fish characters and exciting mini games to make players think more strategically.
With the King of Treasures Plus game, up to 6-8 players can compete in head-to-head competition to try and catch various kinds of fish, and catching higher value fish will result in more points and potentially a bigger payout! The simple game play design is complemented by the mini games and character features which create fast, exciting gameplay that demands quick thinking and hand-eye coordination skills.
The cabinet features a large, high resolution LCD display with superb 3D rendered graphics, creating beautifully detailed ocean playfields for players and spectators to enjoy. These cabinets also feature coin, note and key inputs, and outputs redemption tickets, coins, or printed tickets.
King of Treasures Plus is available as a 6 player machine, 8 player machine and as an Upgrade Kit.
Upgrade and Maintain Your King Of Treasures Arcade Fish Machine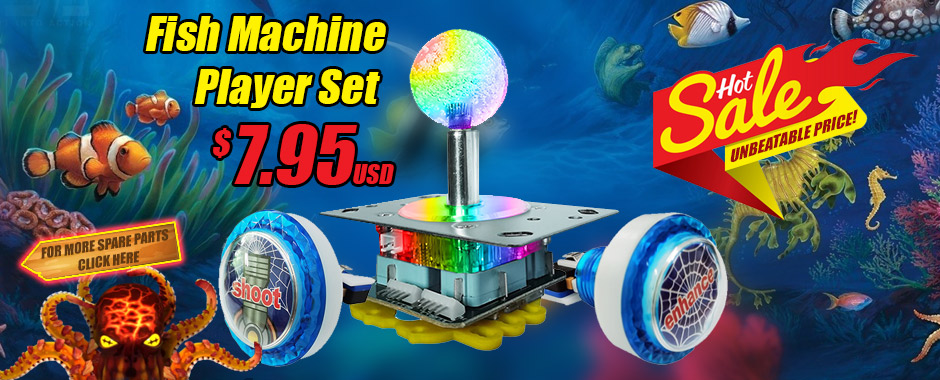 In the event your King of Treasures game should get damaged or you find a faulty piece or if you just need to upgrade to the next in the series, we have a range of spare parts specific to the King of Treasures range of machines to help you out. King of Treasures Spare Parts includes:
King of Treasures, Ocean King, Ocean King 2, Dragon King, Seafood Paradise (and others) Game Boards and Kits!
Premium quality control parts, such as joysticks, buttons, locks for Key In/Out, printer adapter and cables, and wiring (choice for most parts between Chinese and Japanese made)!
Cabinet parts and decal, such as monitors, lights, PCBs, power supplies, plastics and artwork!
Input and Output parts such as hoppers, printers, note acceptors, and Play Portal system!
and much more!
Build Your Own King Of Treasures Arcade Fish Machine
Choose your favourite King of Treasures game board, then choose your cabinet and accessories, and have us custom build the fish machines for you.
We can even customise the stickers, plastic and cabinet colour to match your store. Your own custom designed King Of Treasures arcade machine can be designed in minutes.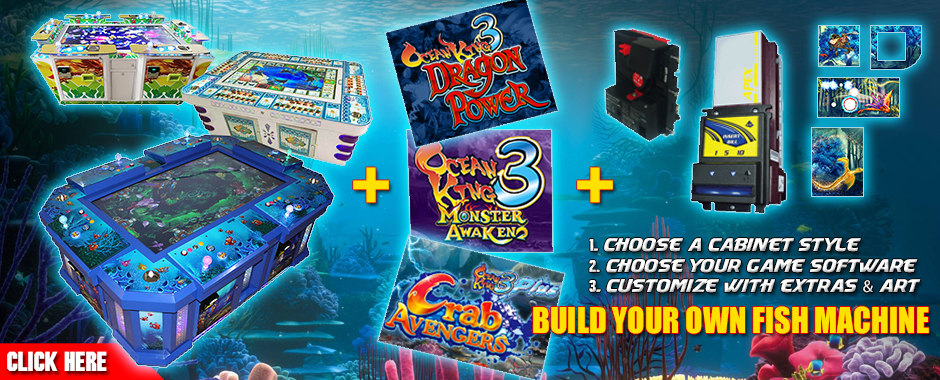 Vending Arrangements for King of Treasures Plus Arcade Machines
Vending arrangements, also known as profit sharing, are now available across the USA for the King of Treasures Plus Arcade Machine games. Our friendly sales team is uniquely equipped to connect operators looking for a vending option for fish machines with agents/owners of fish machines. Once an agreement with an agent has been reached, operators can get a fish machine like King of Treasures Plus into their location and the agent will take care of the maintenance, repairs, and moving the machine in and out of the location – all operators have to do is split the cash box profits! To learn more about King of Treasures Plus vending arrangements, CLICK HERE.
King of Treasures Plus Game Play & Features
Insert coins/notes into the coin/note acceptor, or use key in/out function to stack credits
Choose how strong you would like your gun to be up to 1000 credits (this will determine how many credits you use per shot of your gun and how many points you will receive from the fish you catch)
Use joysticks to alter aim of the tube gun and hit 'SHOOT' button when ready to launch at target/s
When the game is over, press and hold the payout button for 3 seconds to receive your payout
Up to 6 or 8 players can play together at same time
32, 55 or 58 inch LCD displays available in both 6 and 8 player cabinet models
Full 3D rendered graphics for amazingly detailed ocean playfields
Different weapons of different sizes and power levels to choose from
20 fish characters to try and catch in the game
Several fish and crab mini games appear at random to keep players guessing
Fast paced game play offset by layered randomised game features – it's like playing a new game every time
English version fish hunting game series with proven success and profits
Plenty of input and output options to suit your locations needs, CLICK HERE to learn more
Vending / Profit Sharing Arrangements now available across the USA, CLICK HERE to learn more
30 Minutes of King of Treasures Plus Gameplay

King of Treasures Plus Game Features