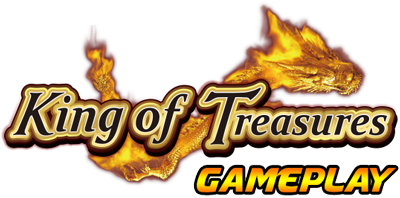 The King of Treasures game play is fast paced and thrilling, offset by strategic thinking and fast reflexes! This fish hunting arcade machine can accommodate up to 6 (or 8) players, who can compete against each other to catch the highest value fish and score the biggest payout! The game play concept is quite simple and familiar to players acquainted with this style of game, which is layered with fast paced mini games and random features that require quick thinking, reflexive skills and excellent hand-eye co-ordination!
KING OF TREASURES – HOW TO PLAY

1.BEGIN! To start players insert coins/notes into the coin/note acceptor to start playing the game. The operator can also add credits for players using the Key In/Out function.

2.ARM YOURSELF! King of Treasures games feature a range of guns, the power of which is determined by how many credits you wish to spend per shot – the more credits you use, the more powerful the gun will be and the easier high value fish will be to catch. Using the 'WEAPON' change button, players can change their gun at any stage during the game.

3.LINE UP A TARGET! Using the joystick, players can aim their net gun at the fish characters that swim across the screen. There are 16 types of fish for players to try and catch, including four new species! The different fish up for grabs include: Clown Fish, Snapper, Lantern Fish, Devilfish, Lionfish, Saw Sharks, Butterfly Fish, Sharks, Octopi, Fugus, Lobsters, Spearfish, Sea Turtles, Flounder, the Ocean Lord Killer Whale, the Humpback Whale, and the Bomb Crab.
4.SHOOT WHEN READY! Once you've chosen your weapon, it's time to take aim and fire! Hit the 'SHOOT' button to catch as many fish as possible and keep in mind that different fish have different point values, some are higher and some lower, so it's good to try and be a little selective in what you try and catch. Just beware higher value fish will take a lot more than just a few shots to catch, so you have to be ready at all times.

5.GAME OVER! When players are ready to quit the game and collect their earnings, they simply hold down the payout button for 3 seconds and the machine will payout your earnings in coins, print offs or tickets!

KING OF TREASURES MINI GAMES
The King of Treasures game play includes three exciting mini games, which appear at random during the main game play, and incorporate an element of strategy for players. These are mportant for players to utilize in order to win the game. The mini game features include:

-Explosive Crab Mini Game – catching this crab triggers a large explosion and get more points for all the fish the explosion affects.
---
-Laser Crab Mini Game –the Laser Crab acts like another weapon for the player. When they catch the crab they get one laser beam shot, which they have a limited time to aim and shoot to catch lots of fish in one shot.
---

-Roulette Crab Mini Game– previously known as Golden Reel Crab. When players capture this crab, it will begin the Golden Roulette bonus game. A golden, spinning roulette wheel will appear on the screen and players simply hit the 'SHOOT' button to stop the wheel and win points. The inner roulette ring scores the highest points.
---

-Lightning Chain Mini Game – when players catch a fish with Lightning Chain they can get up to nine kinds of fish at once and win extra points. There are nine types of fish which are subject to lightning chain: Fugu, Lobster, Snapper, Spearfish, Clown Fish, Octopus, Butterfly Fish, Flounder, and Lionfish.

---

-Vortex Fish Mini Game – when a player catches a fish with a Vortex feature, that fish captures all the same fish near it for the player. Each fish (except Devilfish, Shark, Killer Whales, Humpback Whales and the Crabs) has a Vortex feature.