UPGRADE TODAY WITH THE KING OF TREASURES PLUS ARCADE MACHINE!
About King of Treasures Plus

The King of Treasures Plus Arcade Machine is a video redemption fish hunter game and the second release in the English Version series. Players must use the arsenal of guns at their disposal to catch fish and earn points, and get the biggest payout!
The King of Treasures Plus game is easy to play for players of all skill levels and features loads of fun fish characters, including: Flounder, Devilfish, Spearfish, Butterfly Fish, Lantern Figh, Lionfish, Fugu, Clown Fish, Saw Shark, Lobster, Shark, Snapper, Octopus, Sea Turtle, Explosive Crab, Roulette Crab, Laser Crab, Humpback Whale and Killer Whale.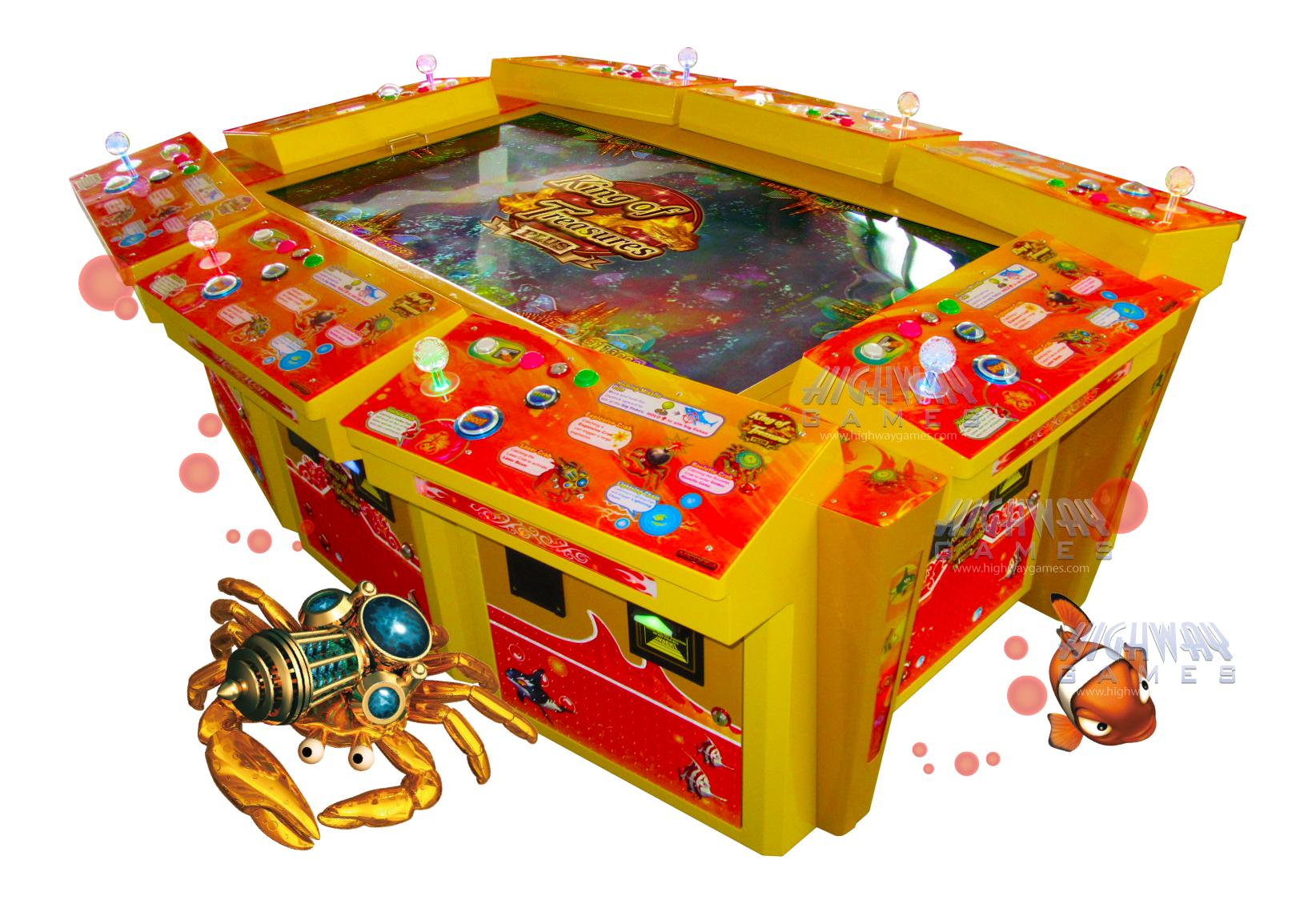 One of the changes to the Plus upgrade is the addition of a brand new character – Fire Dragon! This giant Dragon character has a value point ranging between 200~500, and is extremely difficult to take down! To catch other big fish, players can use their new Homing Missile Gun to lock in on the big catches and shoot them through the crowd of other fish! To access the Homing Missile Gun, players press and hold their joystick upwards.
For more information on how to play the King of Treasures Plus Arcade Machine, CLICK HERE.
Build Your Own King Of Treasures Arcade Fish Machine
Choose your favourite King of Treasures game board, then choose your cabinet and accessories, and have us custom build the fish machines for you.
We can even customise the stickers, plastic and cabinet colour to match your store. Your own custom designed King Of Treasures arcade machine can be designed in minutes.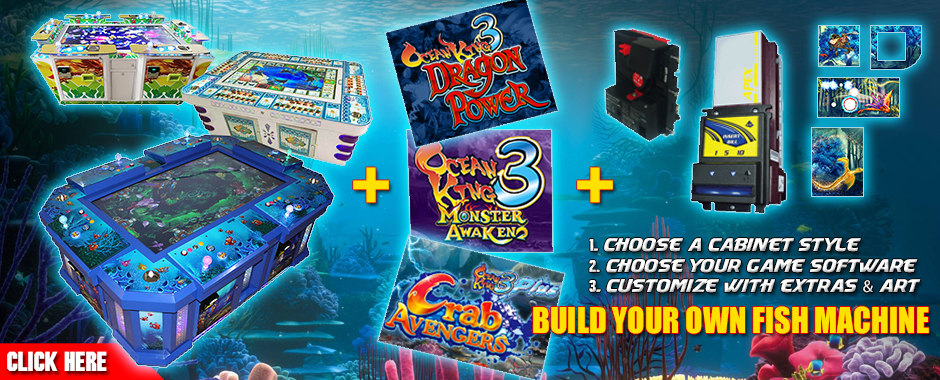 King of Treasures Plus Mini Games
-King of Treasures Plus Fish Mini Games – There are two fish mini games available in the game. The Vortex Fish affects a number of fish in the game and basically sucks in the fish around it when the affected fish is caught. And the Lightning Chain affects nine different kinds of fish (Clown Fish, Spearfish, Butterfly Fish, Lionfish, Snapper, Fugu, Flounder, Lobster, and Octopus) and will allow players to catch other fish in the lightning chain when caught, winning the players extra points.
-King of Treasures Plus Crab Mini Games – There are three crab characters, each with their own mini game that activates when you catch them. The Laser Crab when caught gives the players a special Laser Beam weapon which will catch all the fish the beam hits, but you have to be quick because players only get one shot and limited amount of time to use it. The Roulette Crab allows players to enter the Golden Roulette bonus game when caught, and it makes a golden spinning wheel appear on the screen in front of the player who must hit the 'SHOOT' button to stop the wheel (players will win the amount of points listed on the wheel where it stops). And the Explosive Crab is a mini game character that explodes when caught, catching and damaging the fish on the screen in range of the explosion.
Changes to King of Treasures Plus Arcade Machine
-Players can now cancel their gun station and keep the Machine Gun.
-System setting increases the function, Bullet Reflection.
-New Operator Adjustable Settings
The King of Treasures Plus Arcade Machine features a large High Definition LCD display screen, operator Key In/Out function (allows the operator to control credit going in and coming out of the machine), and the game features 3D rendered graphics, creating incredibly detailed stages.
The King of Treasures Plus Arcade Machine is built upon the features that made King of Treasures a smash hit game with players, and is suitable for a wide variety of locations, especially with customization options! This bright and exciting cabinet will stand out in any location and will draw players in from all across the floor!
King of Treasure Plus Available in Full Upgrade Kit!
For operators who already own a fish hunter machine, such as King of Treasures or Ocean King, the King of Treasures Plus arcade game is also available in a full upgrade kit! No need to buy a whole new machine, just update the current one!
The kit includes a main board, IO board, 6 player hopper terminals, 1x power adapter cable, and a manual to help operators connect the kit and customise their settings!
King of Treasures Plus Arcade Machine Features:
– 6 or 8 players acceptable at the same time!
– Key In/Out Function for Operators!
– 32 or 58 inch A-level LCD display with big table-board – more space, more fun!
– Full 3D graphics bring you the real appearance of the undersea world!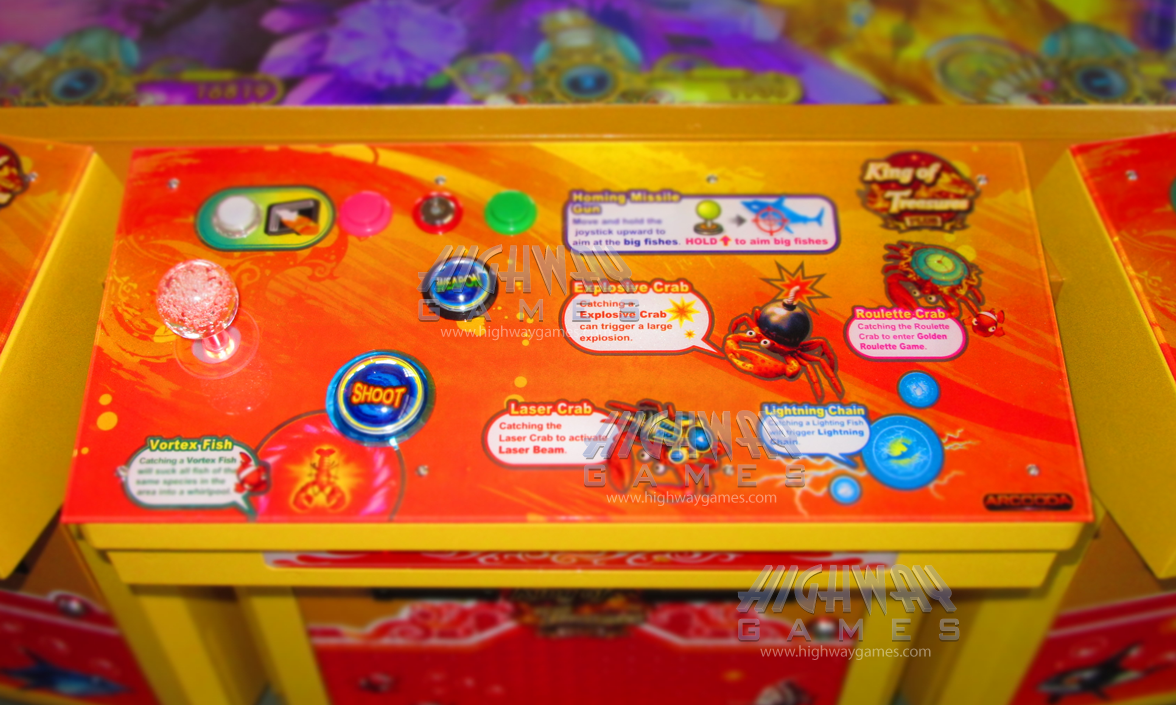 Available Input/Output Options:
– Coin In/Coin Out Version Machine
– Bill Acceptor/Thermal Printer Version Machine
– Coin In/Ticket Redemption Out (for FEC and arcade centres)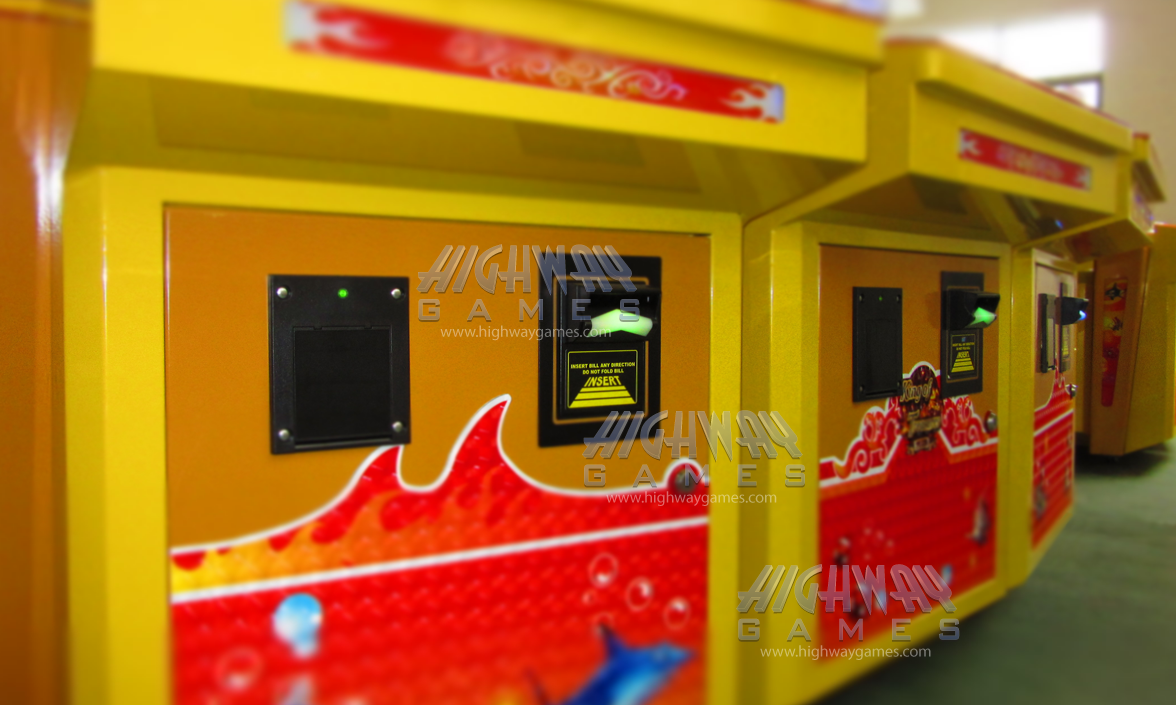 Available King of Treasures Plus Arcade Machine Cabinets
| | | | |
| --- | --- | --- | --- |
| Arcade Cabinet Size | Width | Depth | Height |
| King of Treasures 32″ 6 Player Arcade Machine | 85cms / 33.4inches | 116.5cms / 45.8inches | 84cms / 33inches |
| King of Treasures 58″ 6 Player Arcade Machine | 180cms / 70.8inches | 110cms / 43.3inches | 70cms / 27.5inches |
| King of Treasures 58″ 8 Player Arcade Machine | 190cms / 74.8inches | 115cms / 45.2inches | 85cms / 33.4inches |
---